What an exciting day here in blog world it is!
I remember when I first started my blog two and a half years ago that I had about a million and one questions. From small things to big things to just really random questions that I was too much of a chicken to email someone about (or research myself-hey, html and I don't get along). Well, if there was something like THIS back then, I would've jumped all over it like half price sushi on a Friday night. But that's neither here nor there.
My point is this: If you've ever had any questions about blogging (and I mean any), read below and enter if you wish. OR you might be looking to start a blog but have no clue how? Read below and enter if you wish. I know I would. It's a genius idea that I wish I would have thought of myself...thank you Erin for that. There are FIVE winners and you may get a chance to have a Skype/Facetime sesh with little ole me!
Have you been looking for blog advice but don't know where exactly you should be looking?
Are you a brand new blogger just starting out and find yourself needing some guidance?
Has blogging been a part of your life for a while but you'd like a little help in where to turn to next?
Do you simply just want to grow your blog?
Well then you've come to the right place my friend because this giveaway has your name written all over it!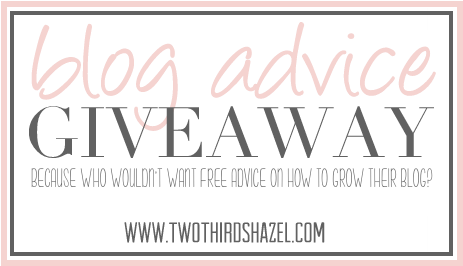 Erin at Two Thirds Hazel
rounded up a group of ladies who have been around the ballpark a time or two when it comes to blogging in order to put this one of a kind giveaway together. We all have some tips, tricks, advice, and guidance that we'd love to shell out in order to help you grow into the best blogger you can be. Whether this be through a Skype session, a back and forth email exchange, a blog critique, a Q&A session, a phone call,
a personal jet to pick you up for a private meeting
, etc - we're covering all the bases.
All you need to do to enter is check out the participating bloggers, see what awesome package they're offering as a prize, and get to entering the Rafflecopter. And the best part about this giveaway?
THERE WILL BE FIVE WINNERS!
Each randomly selected winner will be paired up with three of the participating bloggers as well as with Erin.
Therefore each winner will receive four separate blog advice prizes! We're splitting up the prizes so that one winner isn't bombarded with sixteen different sets of opinions and sixteen different sets of ideas on advice. Because that might get a little chaotic and like they say..."nobody got time for that".
Are you excited? We hope so because we certainly are! Let's get this thing started shall we?
Without further adieu, here are the sixteen ladies who have teamed up to put together the "Blog Advice Giveaway".


Brandi is offering a phone call or email where you will receive tips from her
on how to grow your blog using the social media form of Pinterest.
You will receive a back and forth Q&A session with Ashley via email
Your blog will be reviewed by Mandy (and her husband!) via recorded screen capture video
and then they will offer tips on how you can improve.
Check out an example of this one of a kind opportunity here.
Erin at Living In Yellow
With Jessica you will receive a Q&A session via unlimited emails.
Yes, you read that right...unlimited!
You will receive a back and forth Q&A session with Michelle via email
providing you with the answers you've been looking for on anything blog related