Last night I went to my first Monday Night Football game -

the

Bengals

vs. Steelers! I got tickets for my Dad and I to go together for one of his wedding gifts when me and Billy got married back in August. Growing up he was a big fan of the Bengals and this continued on with me! (Who Dey!) I figured this would be great father daughter bonding time and we sort of despise the Steelers so I was really hoping the Bengals could get a big WIN against them!! Unfortunately, the Bengals lost 27-21, but I had so much fun and am really glad we went and I got to experience it with my Dad.
The game really got me thinking about what a good, loyal fan means. The fans sitting around us were very interesting to say the least.....people watching at it's BEST!
We had a big group of Steelers fans a couple rows behind us, a drunk obnoxious Bengals man 2 rows in front of us, and a couple directly in front of us that were Steelers fans. From the beginning of the game, the Steelers fans in front of us and the drunk Bengals man were already going at it with their words. "Bleeeepppp... Bleeeeppppppp....Bleeeeeepppp....*%$#!" I don't think I've heard that many cuss words in a matter of 5 minutes. Now I understand being at a Monday Night football game that it's going to be intense but is it really necessary to curse EVERY OTHER WORD?! It gets really old, really quick. I admit I can have a foul mouth at times... I am guilty as well in the heat of the moment (who isn't?)... but from now I am really going to try to refrain myself, especially when at a game in public! It's one thing if you are yelling obscenities in your own home....by yourself....at your TV (finger may be pointing at myself here hehe) but when you are in public and families are around it's just uncalled for. Anyways, the couple in front of us started standing the entire game (even when no one else was standing) and there was nothing going on at the time and it became obvious they were doing it on purpose just to block our view. Come on people... do you have to stoop that low? Whatever happened to respecting others?
The one thing that happened that REALLY got to me was that throughout the game 2 Steelers fans got hurt and were taken off the field. During this (atleast in our section) all the crap talking stopped and everybody seemed concerned for the players. When they were escorted off the field, the stadium was filled with clapping and support for them. In my book, that's just what you do. You don't ever wish for a player to be hurt - that's someone's boyfriend, husband, brother, Dad, etc. out there! However, later on in the game one of our Bengals players got hurt and how did the Steelers fans react?! They CLAPPED and CHEERED! I was shocked. At that point it confirmed to me why so many people think Steelers fans are dirty and why they are one of the most hated team in the NFL. I understand not all Steelers fans do this and I'm sure there are Bengals fans out there that are equally as bad, but I am just sharing from my personal experience. I really need to work on being a good fan, and sometimes not let my competitive side come out too much ~ I think this experience will serve as a nice reminder! :)
I must say though... one of the highlights was seeing all the "Rapistberger" jokes. They were HILARIOUS! People had t-shirts reading "No means No...Keep Little Ben In!" and were saying "Hide yo wives, Hide yo kids, Ben Rapistberger is in town!"...think Antoine Dodson youtube video here... LOL! One more funny story...my dad and I got a good laugh as we were walking into the stadium and saw a man that appeared to be homeless holding up a sign that read "Why Lie? I NEED Beer!" We literally laughed out loud (bad I know but we couldn't help it). He also had 3 empty beer cans lined up by his feet.. so cleary it was working for him! More power to ya dude...
Moving along - Billy and I usually go over to my parents house for dinner every other Sunday or so, but I was too tired from my soccer games to make it over there yesterday. I was soo happy when I walked into work and was greeted with a giant tupperware container full of homemade tortilla soup, tortilla strips, and beer bread!!! YUMM-O! My stepmom makes the best homemade tortilla soup so I thought I would share the recipe with you all... it may not be the healthiest recipe but it's delicious, easy, and a perfect fall lunch or dinner meal!!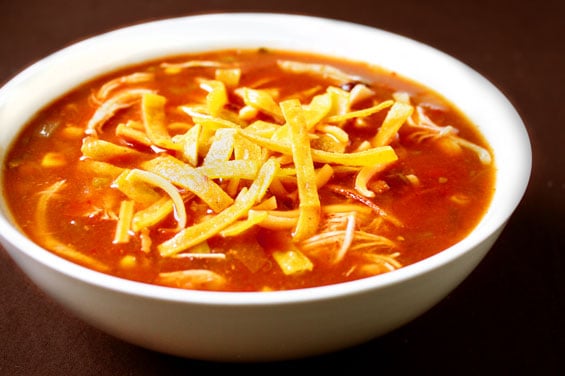 Chicken Tortilla Soup (if you have had Max and Erma's version -this is VERY similar!!)
2 cans Campbell's Cream of Mushroom soup
2 cans Campbell's Cream of Chicken soup
2 cans Campbell's Cream of Celery soup
2 cans Campbell's Cheddar Cheese soup
2 cans (15 oz) chicken broth
1 (15 oz) can diced tomatoes
1 cup Pace medium picante salsa
1 (4.5 ounce) can Ortega green chiles
1 medium onion, chopped,
4 cloves fresh garlic, minced
1 teaspoon red chile powder, more or less to your taste
Salt and pepper to your taste
1/4 cup fresh, chopped cilantro
4 cooked chicken breasts, cut into small chunks
1 package flour tortillas
1/2 pound longhorn style Colby cheese
Directions~
In a large stockpot combine and whisk together until smooth all 8 cans of soup. Add chicken broth. Add tomatoes, salsa, green chiles, onion, garlic, chili powder, salt and pepper. Bring all ingredients to a full boil, reduce heat, and simmer for 1 hour. Add cilantro and chicken breast chunks. Simmer another hour.
While soup is simmering, make your soup toppings. Cut flour tortillas into small thin strips and deep fry in hot oil until lightly browned. Shred cheese.
Enjoy!! Make it a great day! :o)
<3

Katie